Hello, my name is Ben Hopkins. I'm into all aspects of game creation: engineering, design, art, music and sounds. This site is a collection of things that I've made, and game-related articles and musings. Thanks for stopping by.
Projects
---
Skyjunk
Malagris
Mystic Melee
Development and Design
---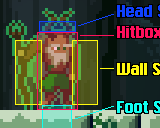 Rigidbody physics + platforming in Mystic Melee.
Draggable, selectable tilemap in pixi.js
Game Jams
---